Welcome!
HighPoint Software Services, Inc. (HPSS) is a specialized environmental information management company that combines technical expertise, environmental regulatory experience and cutting-edge software solutions for a broad range of client needs.
Specialized Software

Flexible / Modular Systems

Personalized / Long-term Service

High Quality / Value

Systems that Work !
HPSS is a systems integrator as well as a software developer. HPSS will provide a solution that best meets our client's need. This may involve developing an entire custom system or integrating existing client systems with off-the-shelf products. The delivered and installed HPSS system meets our client's environmental management needs and are dynamic, flexible and save time and money.
HPSS is not your typical environmental consulting company. We offer a personalized long-term service to our clients. Our clients have shown their overwhelming support with a high percentage of repeat business.
Specialized Experience Areas
Functional Systems Installed
The environmental systems listed below are an example of the wide range of HPSS developed systems.
Title V Data Management Compliance

Air Quality Data Management and Modeling

Air Emission Inventory

Air Intake Modeling

MACT Compliance

Batch Record Process Emission Calculation

Health & Safety Data Management

Spill and Release Incident Tracking

Waste Management and Reporting

SARA and Tier II Reporting

CMA Responsible Care Questionnaire

Environmental Cost Tracking

Water Quality Analysis Labeling

DMR Reporting System

Management of Change System

GPS Data Management
About HPSS
HighPoint Software Services, Inc. was formed in 1995 to provide specialized software and permitting services to environmental clients.
By providing an Internet, Intranet or Windows-based solution to our clients, HPSS has made collecting, entering and reporting environmental information an easy one time process.
HPSS' quality environmental software is matched with our personalized service. This is possible because of our in-depth knowledge and experience of our client's needs and environmental regulations.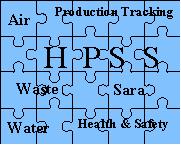 How Can HPSS Help You ?
HighPoint Software Services, Inc. can provide one of our existing systems to meet your needs or integrate / develop a specialized system. You will be surprised how many ways HPSS can help !
Copyright © 1996-2008 HighPoint Software Services, Inc. All Rights Reserved